We're thrilled to release FarPlay 1.2.3 today, which provides two new important features—screen sharing and automatic adjustment of video layout. Upgrade here. Upgrading is always free! Today, we're also formally announcing our tech support forum.
Screen sharing
This release provides a feature many of our users have asked for: built-in screen sharing, which is available for all users. Screen sharing is useful for sharing sheet music and walking friends through FarPlay features.
To get started, click the Camera icon in a video chat and choose Share desktop screen. For details, see our step-by-step instructions!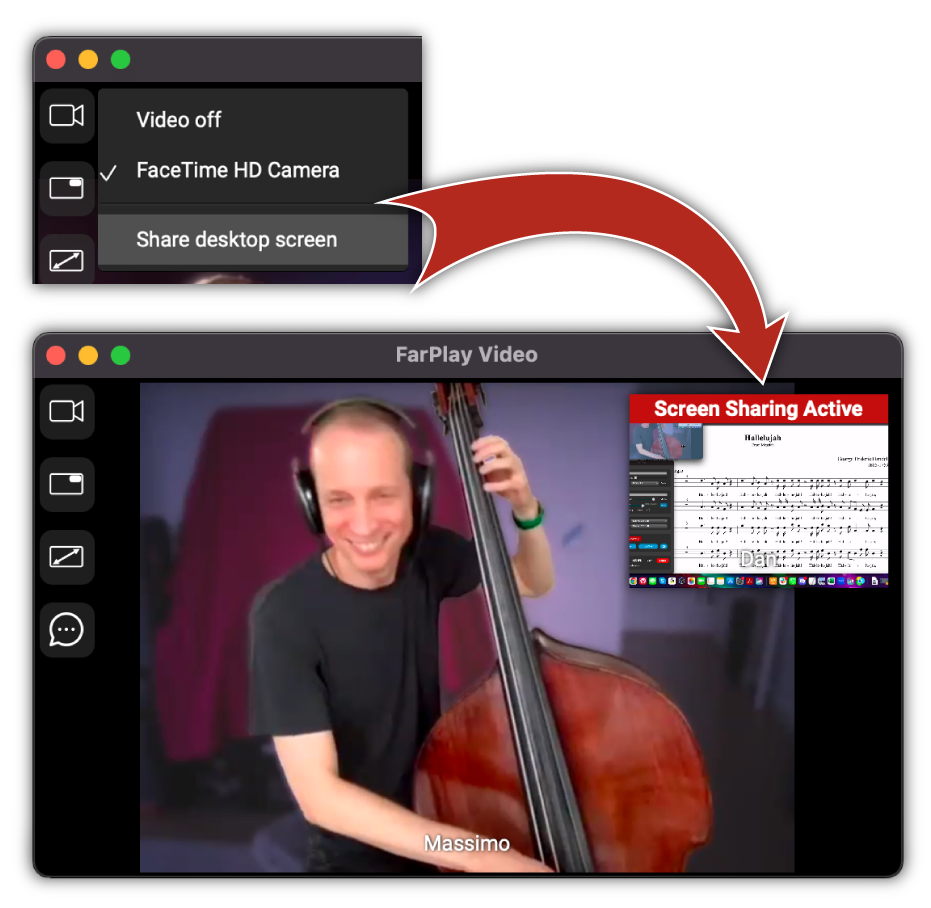 Automatic adjustment of video layout
Version 1.2.3 automatically readjusts the layout of participant videos as the video chat window is resized. It's no longer necessary to click the Cycle layouts button to switch between layouts manually, so we've removed this button, cleaning up the video session interface.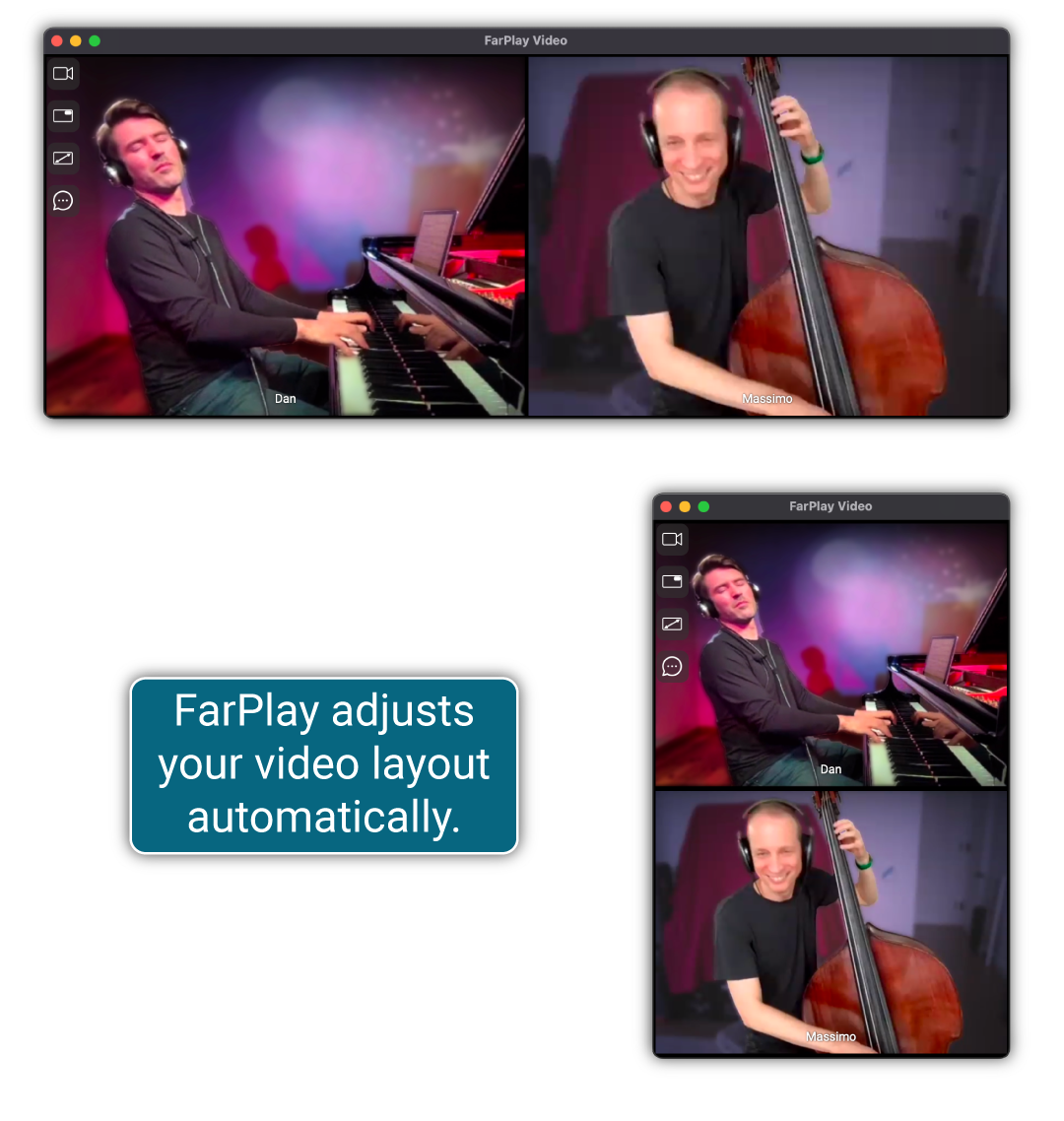 Support forum
One of the things that makes working at FarPlay a joy is our enthusiastic user community. We're delighted to unveil our new support forum, which you can always visit by clicking the Forum button in the navigation menu at farplay.io.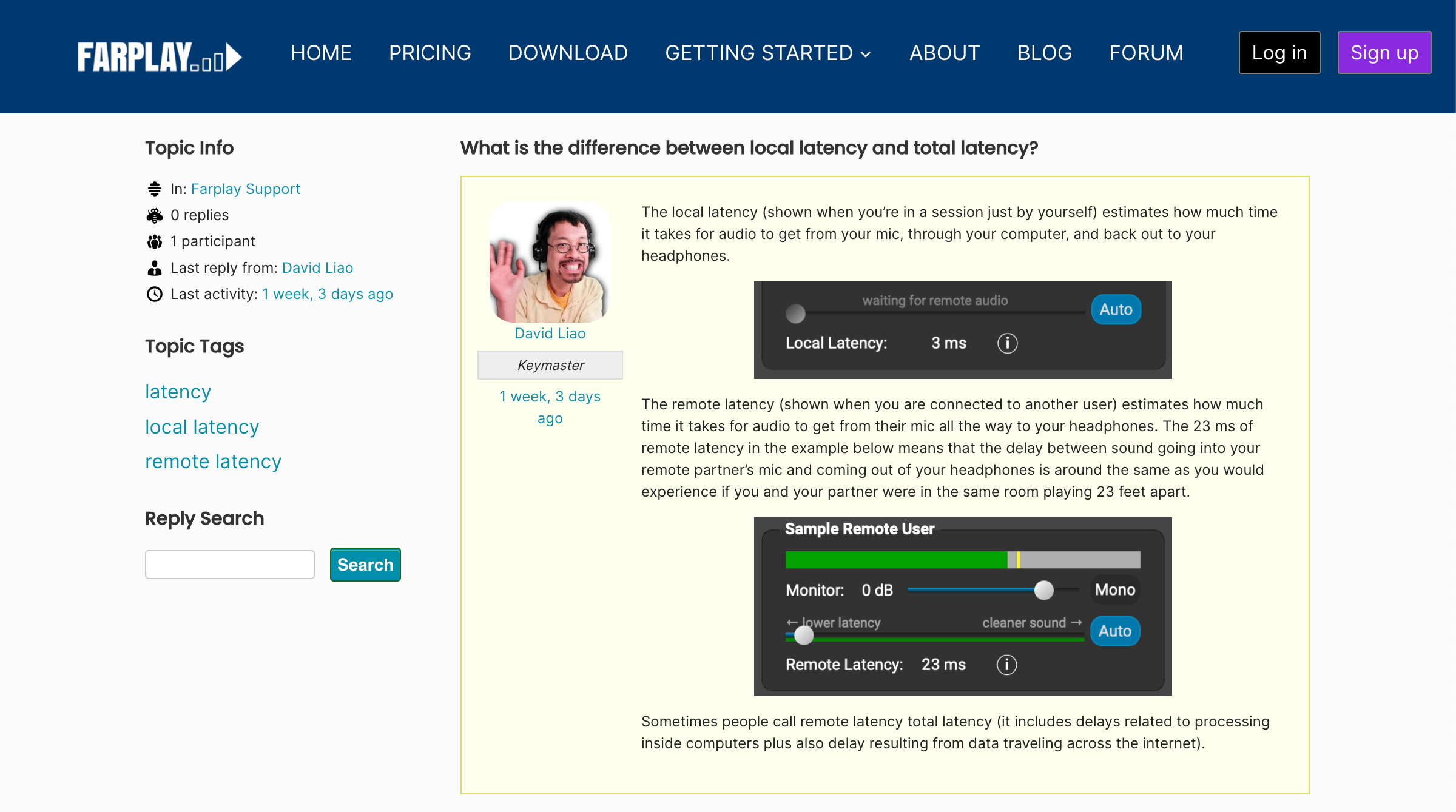 Use the Search feature to find answers to your questions—we've pre-populated the forum with an extended FAQ with nearly 100 answered questions so you can find answers to many of your questions right away!

To sign in to ask tech questions, click the Log in button. We — or other FarPlay users — will answer as soon as we can.

We are still here to answer your questions. We're moving tech support to the forum as much as we can to create a public record so that an answer that helps one user helps other users with the same question.
Get in touch
If you'd like to be featured and share how you use FarPlay — whether it be for lessons, rehearsals, jam sessions, or conversations — we'd love to talk to you. You can let us know by emailing us at contact@farplay.io. For tech support questions, our forum, announced above, is the fastest way to reach us. If you need to reach us privately, email us at support@farplay.io — we're happy to help!
We hope you enjoy FarPlay 1.2.3 and the forum!
—David Liao & the FarPlay team