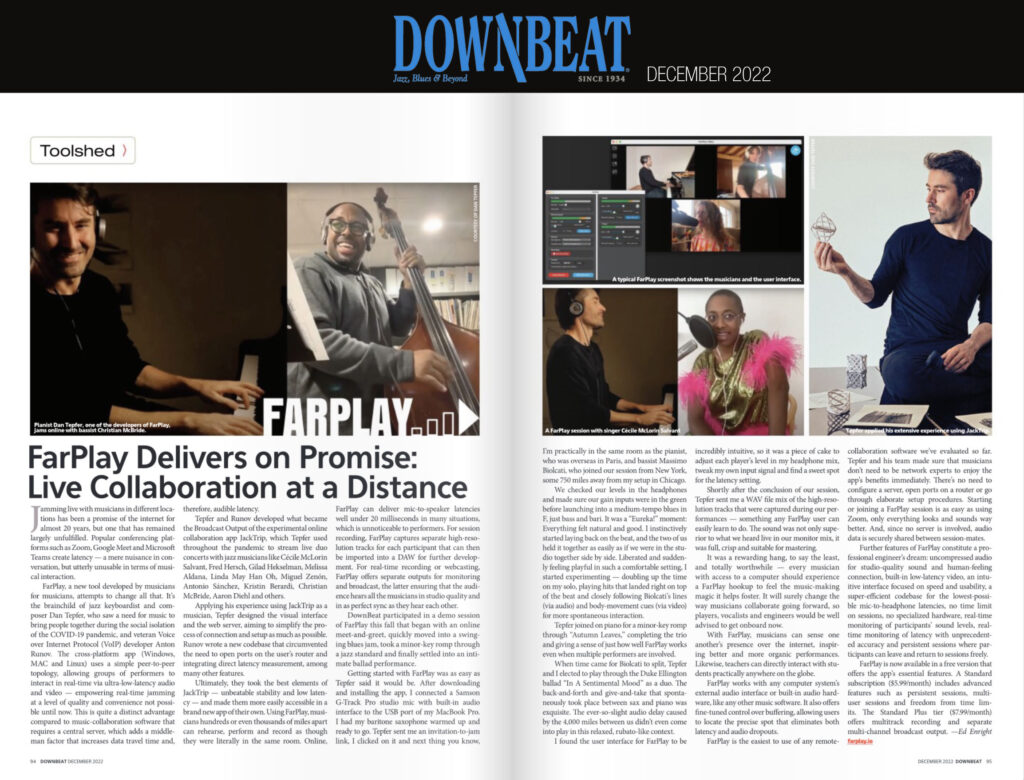 We're proud to be featured in the December issue of the legendary jazz periodical DownBeat, in print since 1934. Writer Ed Enright, an accomplished saxophonist living in Chicago, tested FarPlay out in real-world circumstances by playing a session with bassist Massimo Biolcati in New York City and pianist Dan Tepfer in Paris, France. He gave FarPlay a rave review, remarking on how easy it was to get the session going, and how natural the musical interaction felt once they started playing together, despite the great distances involved. The complete text of the review follows.

FarPlay Delivers on Promise: Live Collaboration at a Distance
Jamming live with musicians in different locations has been a promise of the internet for almost 20 years, but one that has remained largely unfulfilled. Popular conferencing plat-forms such as Zoom, Google Meet and Microsoft Teams create latency — a mere nuisance in conversation, but utterly unusable in terms of musical interaction.
FarPlay, a new tool developed by musicians for musicians, attempts to change all that. It's the brainchild of jazz keyboardist and composer Dan Tepfer, who saw a need for music to bring people together during the social isolation of the COVID-19 pandemic, and veteran Voice over Internet Protocol (VoIP) developer Anton Runov. The cross-platform app (Windows, MAC and Linux) uses a simple peer-to-peer topology, allowing groups of performers to interact in real-time via ultra-low-latency audio and video — empowering real-time jamming at a level of quality and convenience not possible until now. This is quite a distinct advantage compared to music-collaboration software that requires a central server, which adds a middle-man factor that increases data travel time and, therefore, audible latency.
Tepfer and Runov developed what became the Broadcast Output of the experimental online collaboration app JackTrip, which Tepfer used throughout the pandemic to stream live duo concerts with jazz musicians like Cecile McLorin Salvant, Fred Hersch, Gilad Hekselman, Melissa Aldana, Linda May Han Oh, Miguel Zenon, Antonio Sanchez, Kristin Berardi, Christian McBride, Aaron Diehl and others.
Applying his experience using JackTrip as a musician, Tepfer designed the visual interface and the web server, aiming to simplify the process of connection and setup as much as possible. Runov wrote a new codebase that circumvented the need to open ports on the user's router and integrating direct latency measurement, among many other features.
Ultimately, they took the best elements of JackTrip — unbeatable stability and low latency — and made them more easily accessible in a brand new app of their own. Using FarPlay, musicians hundreds or even thousands of miles apart can rehearse, perform and record as though they were literally in the same mom. Online, FarPlay can deliver mic-to-speaker latencies well under 20 milliseconds in many situations, which is unnoticeable to performers. For session recording, FarPlay captures separate high-resolution tracks for each participant that can then be imported into a DAW for further development. For real-time recording or webcasting, FarPlay offers separate outputs for monitoring and broadcast, the latter ensuring that the audience hears all the musicians in studio quality and in as perfect sync as they hear each other.
DownBeat participated in a demo session of FarPlay this fall that began with an online meet-and-greet, quickly moved into a swinging blues jam, took a minor-key romp through a jazz standard and finally settled into an intimate ballad performance. Getting started with FarPlay was as easy as Tepfer said it would be. After downloading and installing the app. I connected a Samson G-Track Pro studio mic with built-in audio interface to the USB port of my MacBook Pro. I had my baritone saxophone warmed up and ready to go. Tepfer sent me an invitation-to-jam link, I clicked on it and next thing you know, I'm practically in the same room as the pianist, who was overseas in Paris, and bassist Massimo Biolcati, who joined our session from Ness York, some 750 miles assay from my setup in Chicago.
We checked our levels in the headphones and made sure our gain inputs were in the green before launching into a medium-tempo blues in F, just bass and bari. It was a "Eureka!" moment: Everything felt natural and good. I instinctively started laying back on the beat, and the two of us held it together as easily as if we were in the studio together side by side. Liberated and suddenly feeling playful in such a comfortable setting, I started experimenting — doubling up the time on my solo, playing hits that landed right on top of the beat and closely following Biolcati's lines (via audio) and body-movement cues (via video) for more spontaneous interaction.
Tepfer joined on piano for a minor-key romp through "Autumn Leaves," completing the trio and giving a sense of just how well FarPlay works even when multiple performers are involved.
When time came for Biolcati to split, Tepfer and I elected to play through the Duke Ellington ballad "In A Sentimental Mood" as a duo. The back-and-forth and give-and-take that spontaneously took place between sax and piano was exquisite. The ever-so-slight audio delay caused by the 4,000 miles between us didn't even come into play in this relaxed, rubato-like context.
I found the user interface for FarPlay to be incredibly intuitive, so it was a piece of cake to adjust each player's level in my headphone mix, tweak my own input signal and find a sweet spot for the latency setting.
Shortly after the conclusion of our session, Tepfer sent me a WAV file mix of the high-resolution tracks that were captured during our performance — something any FarPlay user can easily learn to do. The sound was not only superior to what we heard live in our monitor mix, it was full, crisp and suitable for mastering.
It was a rewarding hang, to say the least, and totally worthwhile — every musician with access to a computer should experience a FarPlay hookup to feel the music-making magic it helps foster. It will surely change the way musicians collaborate going forward, so players, vocalists and engineers would be well advised to get onboard now.
With FarPlay, musicians can sense one another's presence over the internet, inspiring better and more organic performances. Likewise, teachers can directly interact with students practically anywhere on the globe.
FarPlay works with any computer system's external audio interface or built-in audio hardware, like any other music software. It also offers fine-tuned control over buffering, allowing users to locate the precise spot that eliminates both latency and audio dropouts.
FarPlay is the easiest to use of any remote-collaboration software we've evaluated no far. Tepfer and his team made sure that musicians don't need to be network experts to enjoy the app's benefits immediately. There's no need to configure a server, open ports on a router or go through elaborate setup procedures. Starting or joining a FarPlay session is as easy as using Zoom, only everything looks and sounds way better. And since no server is involved, audio data is securely shared between session-mates.
Further features of FarPlay constitute a professional engineer's dream: uncompressed audio for studio-quality sound and human-feeling connection, built-in low-latency video, an intuitive interface focused on speed and usability a super-efficient codebase for the lowest-possible mic-to-headphone latencies, no time limit on sessions, no specialized hardware, real-time monitoring of participants' sound levels, real-time monitoring of latency with unprecedented accuracy and persistent sessions where participants can leave and return to sessions freely.
FarPlay is now available in a free version that offers the app's essential features. A Standard subscription ($5.99/month) includes advanced features such as persistent session, multi-user sessions and freedom from time limits. The Standard Plus tier ($7.99/month) offers multitrack recording and separate multi-channel broadcast output. —Ed Enright